DBR Mod. 48 cal. .375 H&H Mag. – .375 H&H Mag.
The elephant`s life
The special, extremely thin ionised coating on the metal emphasizes the brilliance of the engravings. The stock, made from fine grain burl wood, melds perfectly with the hard steel. Such a flawless metalto-wood fit requires many years of experience in working with materials and incomparable skill and teamwork. This quality craftsmanship guarantees the lasting value and uniqueness of each DBR we construct.
Life journeys in the Savannah
The engraving on this unique DBR cal. .375 artistically recounts in minute detail the life of an elephant – from vulnerable calf to adult bull, fighting its rivals and ultimately finding death.
A link with nature
The elephant theme is repeated all over the barrel. Instead of a common foliage motif for the background, the artist chose an elephant skin pattern and texture. The entire work of art is captivating owing to its flawless and unique finish, demonstrating clearly the time and skill needed to perfect its composition.
A love of detail
The mighty bull elephant, with its tusks finished in platinum, decorates the magazine cover in a perfect Bulino engraving. Depicted in white gold, he towers majestically above his herd. Two herons, which the artist also inlaid in white gold, appear in the background.
The underside of the rifle was projected in a 500x enlargement onto a screen during the largest gun exhibition held in Moscow, thus showcasing the flawless craftsmanship of our engravers.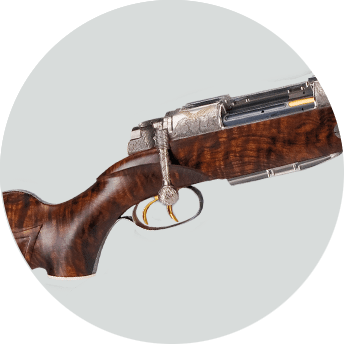 The finish is flawless
The precise composition of the scene, including the point at which metal flows seamlessly into wood gives the piece its uniquely smooth and refined appearance.