Stainless Steel 700 – forged for eternity
Constructing a double express rifle from this material presented machining challenges to maintain our stringent requirements in both quality and appearance. This material is so tough and hard that even in an untreated state, it withstands the most extreme stress. Despite that, we took it a step further by finishing it using our re-tempering process. The result is increased strength without distortion.
Double Express Rifle Super Stainless 700 cal. .577NE3" – .577NE 3"
Solid safety bolt
To meet customer specifications, Fuchs Fine Guns incorporated a solid and robust safety bolt. The hunter can rely on the rifle's safety system to cock and uncock it easily and quietly in the extreme conditions for which it was designed.
Barrels
The pair of barrels is combined using the complex demi-block method to enhance strength over that found in the more common chopper-lump style. All parts, including the thin top rails, are milled from a full N700 billet. The internal barrel profile is bored and drawn according to our own stringent internal guidelines. A special measuring and processing method is used to achieve match quality in the barrels and thus attain unheralded accuracy.
A big game stock is an absolute "must"
Large caliber rifles demand absolute precision in the stock. To fire with assured accuracy, the hunter must confidently absorb the bulk of the initial recoil. Our leather-covered super-absorbent rubber recoil pad provides maximum comfort while maintaining shot placement integrity.
Trigger system with character
With heavy double barrel rifles we pay attention to the smallest of details because we know our customers may face dangerous attack situations while hunting. To assure the second shot fires, we employ a perfect 'dry' trigger system, leaving nothing to chance.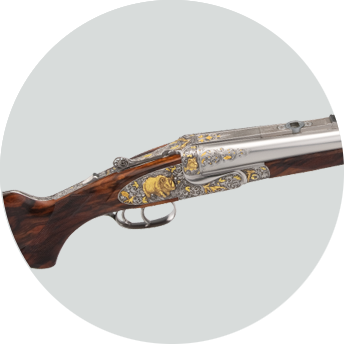 Sights and swift firing
With conventional double rifles in big game calibers, the shot is fired using open sights. For our customers at the cutting edge of technology, we incorporate holographic sight technology, thus providing the ultimate in non-magnifying sighting devices. There is no lining up of sights, no parallax with which one must deal. With a properly adjusted and mounted holographic site, you simply put the sight on the target and fire.
Supreme Gift Set
In addition to a unique rifle, we offer a special gift set.
aircraft-quality aluminum outer casewith velvet-lined inner compartments
2 handcrafted pouches made of crocodile and elephant leather with gold lettering, fine silver 925 hand-engraved belt buckle
special bowie knife made of surgical steel with mammoth ivory grips and elephant leather sheath
shooting gloves and 2 elephant leather cartridge drop boxes with gold finish and 24 carat gold initials on the outside