Double Bolt Action Repeater

The DBR 48 – your life insurance
The DBR 48 is a .470 Capstick caliber, the largest in the range from Fuchs Fine Guns, making it particularly suitable for big game hunting. Despite its weight, the Celtics distinguishing features are its ease of control and comfortable handling. Even at greater distances, the velocity of the firing is impressively energetic. The six-shot capacity within 20 seconds provides the user with the best possible protection in life-threatening situations.
DBR Mod. 48 Mag. cal. .470 Capstick – .470 Capstick
A precision work of art for big game hunting
The big game stock with straight stock back and two-dimensional absorbing rubber recoil pad efficiently absorbs the recoil. This enables the shooter to control the weapon safely in all conditions. The design has a longer receiver tang and a longer breech, which extends an additional twelve millimeters into the stock. The distinctive feature of the cal. .470 Capstick is its marked high accuracy.
Symbolism for connoisseurs
Every rifle supplied by Fuchs Fine Guns is an individually perfect piece of detailed craftsmanship. This DBR 48 was decorated in a Celtic motif. The bolt handle ends in a ball made of solid sterling silver. The decorative surface provides a unique feel. The magazine cover, equally artistically decorated, displays the Celtic boat symbol which stands for prosperity, wealth and power. The unique design makes this DBR 48 a rare work of art, a collectors piece with great, lasting value.
Personality and style
The owners initials are emblazoned in Celtic decorative style on the end of the pistol grip. With such captivating and intricate detail based on customer specifications, this rifle was personalized to suit his preference.
Full engraving with effortless elegance
Notwithstanding the full engraving, the detailed ornamentation on the rifle does not make it seem overloaded. The filigree design conveys an effortless elegance.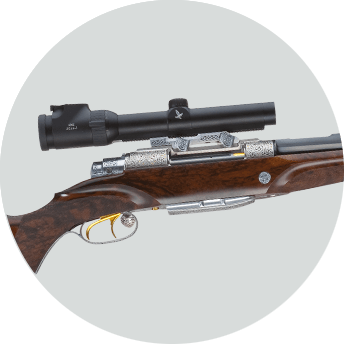 Masterpieces strictly limited
The Celtic is a masterpiece creation of Fuchs Fine Guns. Because the process is predominantly manual, only a strictly limited quantity of the DBR 48 can be produced. Each rifle is ultimately a one-off requiring many man hours to produce a perfect piece for the most discerning customer.