Double Bolt Action Repeater

The Over & Under Double Barrel Bolt Action Repeating Rifle
This very delicate rifle is best suited for collectors and aficionados of unique rifles or for the collector who prefers a wall-mounted version to complete his cache. Titanium parts comprise 50 per cent of the material used to construct this rifle. The Double Barrel Bolt Action Repeating Rifle appeals because of its individuality, optical presentation, distinctive stock and unique character. This makes it a valuable and much sought after collector's item.
Over & Under DBR, cal. .416 Rem. Mag. – .416 Rem. Mag.
The Over & Under Double Barrel Bolt Action Repeating Rifle
The Over & Under has a removable side magazine, while this illustrated model has a hinged magazine cover. A two- or four-shot magazine can be attached. The specially designed cover is permanently attached to the system. As the barrels are free-floating, the hunter has the option of regulating the rifle. The regulating process will be explained by the authorized dealer at time of purchase.
The choice is yours
The recoil behavior characteristic of this rifle is a vertical movement with just a slight lateral twist. In contrast, the Side-by-Side version twists to the side more markedly in recoil. In addition, the impact behaviour of the Over & Under is faster and softer than its Side-by-Side counterpart. As both configurations are equally desirable, we offer whichever option the customer prefers.
Presentation
The superbly ornamented engraving with gold inlay develops the African theme. A herd of elephants, beautifully worked in Bulino engraving with realistic detail, is emblazoned on the magazine plate. The background is contrasted with gold, bathing the scene in a majestic African light.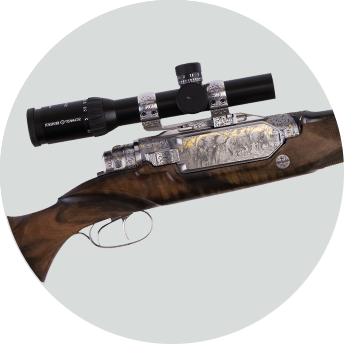 Simply spectacular
On the Over & Under version, both cartridges are ejected laterally. The operation of this rifle type is spectacular. It's obvious from the moment you see it that this is an exceptional rifle, whose firing position, operation and feel have to be experienced to be believed.